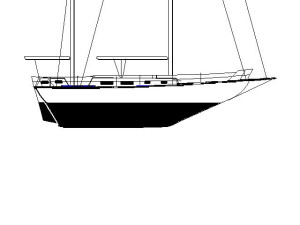 D/M-2
Monohull, Bermuda Ketch
39' 6" x 13.4 Tons, Full Keel
Warps, Net and Pig Iron Drags
Force 10 Conditions
File D/M-2, derived from the writings of Bernard Moitessier - Vessel name Joshua, monohull, canoe-stern, center cockpit Bermuda Ketch build of steel, LOA 39' 6" x LWL 33' 9" x Beam 12' x Draft 5' 3' x 13.4 Tons - Full keel - Drogue: assorted drags used in concert, including 22 fathoms 4.5" hemp rope weighed down by 3 pigs of iron 40 lbs. each; 16 fathoms 3" hemp rope weighed down by two pigs of iron 40 lbs. each; 32 fathoms of 1.5" nylon rope trailing freely - Deployed while running before a mature storm in the high latitudes of the Southern Ocean with sustained winds of 50 knots and seas of 30 ft. - Joshua came near to pitchpoling several times and Moitessier elected to cut away all the drags.
Bernard Moitessier is undoubtedly one of the most extraordinary seamen that has ever lived. Fortunately he is an extraordinary writer as well. The critic Jonathan Raban once said, "I'd sooner read Moitessier than any other nautical writer alive." Indeed one never tires of reading Moitessier. He holds the imagination captive, from the first page to the last. Born in French Indo-China, Bernard's first odyssey was aboard his dilapidated junk, Marie Therese, which ran aground after a fifteen round - eighty five day - battle with a monsoon in the Indian Ocean. He then spent three years on the island of Mauritius, building Marie Therese II, which ran aground in the Antilles, after a long lonely Atlantic crossing. A few years later the resilient Moitessier had finished his book, Vagabond des Mers du Sud, and was in Chauffailles, France, getting married to "a little slip of a woman called Francoise" and overseeing the building of his new 39-ft. steel boat Joshua. In October 1963 he took Francoise "for a sail" on Joshua - across the Atlantic, through the Panama Canal, to the Galapagos and the South Pacific. The couple spent two happy, carefree years in Polynesia. In the winter of 1965 they "went sailing" again - Tahiti to Spain non-stop, via Cape Horn, 14,216 miles in 126 days.
It was on 13 December 1965 that Joshua ran into a heavy storm in the high latitudes of the Southern Ocean, mid-way between Tahiti and Cape Horn. Mindful of the experiences of Smeeton and Robinson, Moitessier deployed an array of drags to slow Joshua down - all told some 900 feet of heavy ropes weighed down by five 40-lb. iron pigs and a large heavy net used to load ships. Despite all the drag devices in tow Joshua came very close to sharing the fate of Tzu Hang - going end over end. As he struggled with the helm, Moitessier began to take stock of his situation and compare it with the experiences of other "Cape Horners," among them the renowned Argentinean singlehander Vito Dumas.
In the famous episode that followed we find Moitessier engaging the ghost of the Dumas in a debate, as it were. "But what was your secret, Vito Dumas.... You did it... and Legh II was a small boat... you carried sail, I believe you... but you couldn't have carried any sail in this kind of seas, don't spin me that yarn, for if you had carried any sail in these seas you would have been pitchpoled like Tzu Hang... and like Joshua, almost.... And yet, you covered the three oceans...." (Cape Horn, The Logical Route, Grafton Books, London 1987, by permission).
Moitessier then writes that he doesn't believe in ghosts, but could have sworn that he heard a voice - that of Dumas - telling him the answer. Once he had the answer he was aft, cutting away all drags and warps, allowing Joshua to run unimpeded on bare poles. He noticed an enormous change in her: "She had no longer anything in common with the wretched boat of the night before which had made me think of the little hunter trying to parry the blows of a gorilla, with his feet caught in the undergrowth." (Ibid.) Thereafter Moitessier adopted the technique of "putting down the helm," and Joshua began taking the seas more safely on the quarter. Later on in the storm, as they are sitting in the inside steering station, he explains the technique to his wife Francoise:
I'm running dead before the wind to keep the maximum speed on the boat and make sure that she answers on the helm when she has to. Now watch carefully, you see that wave coming up [behind]... I am still dead before... and just before the stern lifts I turn the wheel right down... You see... she heels over and veers to the right as she ought to... she is pushed forward and a little sideways... the moment the stern settles down again, just after the wave has passed I turn the wheel right over in the opposite direction to bring her back again stern on; this is the best moment because the rudder is deep in the water and very effective... you see... we are back dead before the wind, and the business starts all over again. (Ibid.)
Remarkably, Moitessier seems to be using his instincts to avoid pitchpole (see image in previous file). It must have been instinct because the phenomenon of orbital rotation was not well known at the time - nowhere in his writings does Moitessier refer to the orbital rotation of waves. Indeed, one can only infer that Moitessier must have been directed by some rare and spontaneous instinct peculiar to extraordinary seamen. By that, or by the ghost of Vito Dumas.
To fly dead straight down a wave face would have placed Joshua in the same head-over-heels predicament as Tzu Hang - the bow impaling itself in the approaching "current" in the trough as the stern was being hurled downwind by the motion at the crest. So, in maneuvering across the face of a wave (like a skier zig-zagging down a slope), Moitessier is in effect trying to cheat the pitchpole demon - trying to keep the bow from burying itself in the adjacent trough. To some extent the same principle is used by a surfer when he puts down his heel to "spin out" and disengage from the wave. Needless to say in order to execute this maneuver with precision over and over again in a storm, the helmsman of a sailboat would require the reflexes, the skill and the stamina of a Grand Prix driver, attributes that Moitessier no doubt possessed at that time, but hardly common to all sailors. Bear in mind also that Joshua was made of steel, had a canoe stern, a center cockpit, and an inside steering station where the helmsmen could concentrate on what he was doing, unaffected by the cold and the wet. It is interesting to note what the late Miles Smeeton had to say about this technique:
When Bernard Moitessier, that fine seaman, offers an opinion, it should be well considered, because he has twice sailed Joshua round Cape Horn... but his answer is not necessarily the right one for all yachts, any more than mine is, and it requires a superman to steer accurately like this through a dark night.... Even if his theory is correct for other yachts, tired men and irregular waves are apt to defy it. (Because The Horn Is There, Granada Publishing, London, 1984 & 1985, Appendix, by permission).
In 1982 Joshua was anchored in Cabo San Lucas, Mexico, when a tropical storm swept over the crowded anchorage. A large motorboat dragged down on Joshua, forcing her up on the beach, where numerous other yachts ended their careers as well. When the fiasco was over nothing remained of the famous boat other than her bare steel hull. Two brothers from Port Townsend, Washington bought the hull for $20 and spent two years rebuilding her, later selling her to a Seattle woman. The woman's dream of sailing Joshua around the world was rudely shattered by the indiscretion of her sailing partner - he turned out to be married. The French newspaper Voiles & Voliers heard about the affair and sent a photographer to Seattle. After the article - showing magnificent photographs of Joshua under sail - was published, a number of famous sailors banded together to form the Joshua Foundation. The French Maritime Museum then purchased the dear old boat, put it on a ship and took it to La Rochelle France, where she is on display today.