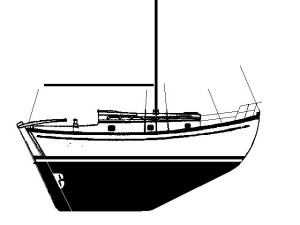 S/M-16
Cape George 31 Cutter
31' x 9 Tons, Full Keel
12-Ft. Dia. Sea Anchor
Force 8 Conditions
File S/M-16, obtained from Steve Lockwood, Portland, OR. - Vessel name Halo, hailing port Portland, Cape George cutter designed by Nolan Atkins, LOA 31' x LWL 27' 6" x Beam 9' 6" x Draft 5' x 9 Tons - Full keel - Sea anchor: 12-ft. diameter Para-Tech on 300' x 1/2" nylon 3-strand and 50' of 5/16" chain, with 1/2" stainless steel swivel - Deployed in deep water about 100 miles northwest of San Francisco in a gale with winds of 35-40 knots and seas of 14 feet - Vessel's bow yawed up to 90° at times - Drift was about 6 miles during 20 hours at sea anchor.
In May 1993 Halo was en route to the Bay Area from Portland, normally a downwind run. When she ran into a southerly gale her owner tried beating into it for a while, and then decided to deploy a 12-ft. diameter Para-Tech sea anchor. Halo was sea anchored for 20 hours, drifting only 6 miles. Transcript:
Boat was held off the wind an increasing amount as wind strength increased. Very uncomfortable roll and some waves broke on deck. Our boat is exceptionally strong so we were not very concerned. We forgot to add a swivel, but noticed no difference in boat motion over time. There was some twisting [of the nylon rode], but not severe at all. Rode was 300' x 1/2" nylon with 50' of 5/16" chain at sea anchor. Certainly no survival storm, but we thought it would be interesting to try it out and that a break from beating into the gale would be nice if we didn't lose too much ground.