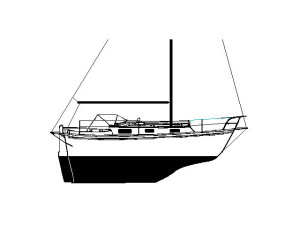 D/M-9
Monohull, Gulf Island
30' x 4 Tons, Full Keel & Cutaway Forefoot
36" Dia. Galerider Drogue
Force 8 Conditions
File D/M-9, obtained from Warren Hawkins, North Pole, Alaska - Vessel name Ancient Mariner, monohull, Gulf Island, LOA 30' x LWL 27' x Beam 8' x Draft 5' 4" x 4 Tons - Full keel & cutaway forefoot - Drogue: 36" Diameter Galerider on 200' x 5/8" nylon three strand rode, with bridle arms of 20' x 5/8" Dacron braid and 1/2" stainless steel swivel - Deployed in a gale in deep water about 1200 miles NE of Hawaii with winds of 35-40 knots and seas of 18 ft. - Vessel's stern yawed 20° - Speed was reduced to about 3 knots during 20 hours of deployment.
The trade winds blow steadily over vast stretches of ocean and can generate surprisingly large seas and swells. When Victor Shane was sailing to Hawaii, for instance, stiff trades had produced swells that averaged about 10 feet. Typically these seas are very lumpy and uncomfortable as well. Add a few squalls and a low system and it's time to heave-to or get out the drogue. Ancient Mariner, a Gulf Island 30, was being delivered to Hawaii from Alaska when she ran into this sort of situation. Transcript of the feedback provided by delivery skipper Warren Hawkins:
During the early morning hours of July 30, 1990, the [trade] wind steadily increased, while holding approximately the same direction (70-90°). By dawn the main was down completely. We were running on about 1/3 of the roller-reefed jib. Our speed was manageable, the swells being about 12' high. Our course to steer was only about 20-30 degrees from straight downwind. By 0900 hrs. we were under bare poles, the wind still increasing and the swells running 15-18'. Steering was becoming a problem to keep from broaching or from running straight down a wave and possibly pitchpoling.

Just before noon, while maneuvering on one of the larger swells whose upper 4' broke on us, the tiller snapped off. At this point deployment of the drogue was an absolute necessity. I made up a bridle out of about 60' of 5/8" braided Dacron, in the middle of which I tied a loop using a figure eight knot. The loose ends ran inside the stern cleats and around the two genoa sheet winches. The 200' rode was attached to the bridle approx. 20-25' aft of the boat with a bowline. The other end was attached to the Galerider swivel with a bowline. The rode itself was braided nylon and could have been longer.

The very instant that the Galerider took hold it was as if you had pushed a button and calmed the gale. We made a quick jury-rig repair on the tiller (which lasted all the way to Honolulu) and the motion of the vessel was such that we could take normal steering watches on the tiller and the off watch could get some sleep. One pleasant surprise from using the Dacron bridle was that due to its very low stretch it did not chafe where it went over the two corners of the transom (no sawing effect).

By 0800 the next morning the swells were back down to 10-12', the wind was subsiding and we hauled in the Galerider. The Gulf Island 30 was not designed as an ocean crossing vessel. We would have been hard put to weather the gale without some form of speed reduction even if the tiller had not broken.