D/M-13
Monohull, Mason
46' x 12.5 Tons, Full Keel
30" Dia. Conical Drogue
Force 11+ Conditions
File D/M-13, obtained from Evo Zembal, Nanaimo, BC. - Vessel name Sine Timore, hailing port Nanaimo, monohull, Mason 39, designed by Al Mason, LOA 46' x LWL 39' x Beam 12' x Draft 6.5' x 12.5 Tons - Full keel - Drogue: 30" Diameter Jim Buoy cone (Cal June, Inc.) on 600' x 1/2" nylon braid rode, with 1/2" galvanized swivel - Deployed in a storm in deep water about 1200 miles northeast of Hawaii with winds of 60-70 knots and seas of 25-30 ft. - Vessel's stern yawed 45° and more with the owner steering - Speed was reduced to about 4 knots during 16 hours of deployment.
Sine Timore ran into a Force 10-11 storm on the way back from Hawaii. She was doing 8 knots on bare poles when the 30-inch conical drogue was deployed.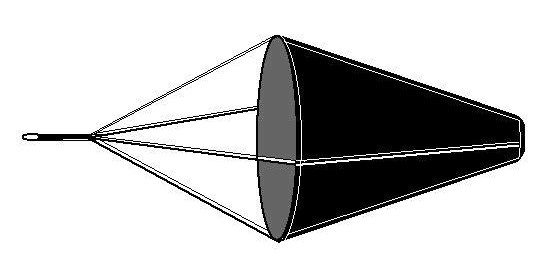 When this yacht was in Santa Barbara Victor Shane was invited on board and it didn't take very long to realize that she and her crew had been through a terrifying storm. Shane was then amazed to find that the drogue that had reputedly saved this boat was a 30-inch diameter Jim-Buoy cone, the sort that grandpa uses when he is trolling for fish in his 15-ft. aluminum skiff!
Cal June (North Hollywood, California) does not manufacture these particular cones for use in heavy weather. They are classified as "trolling sea anchors" and the words "Not For Storm Use" are printed on their containers. Notwithstanding, this one did see combat duty as a storm drogue on 12-ton Sine Timore!
When Shane examined the cone he saw that most of the seams had indeed ruptured. The device was in fact on the brink of catastrophic failure, leading him to suspect that the crew of this yacht had somehow dodged a bullet. Perhaps the cone lasted so long because Evo Zembal used 600' of 1/2" nylon rode. Transcript:
Barometer steadily dropped from 1029 to 999 in ten hours. We deployed the drogue when the wind speed had built to 55 knots sustained. A few minutes later the boat had slowed down and the ride was actually very comfortable compared to what was going on outside the boat. We stopped sliding down on the wave faces. This was the first time in my life that I had ever used a drogue. I didn't know that I had to use a swivel. Another thing I didn't use was a bridle from each side of the transom, this way the swing was sometimes up to 30°. I really believe that the drogue saved my life and the boat.