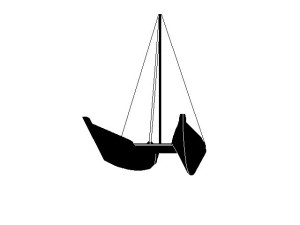 S/C-7
Catamaran, Wharram
35' x 17' x 3 Tons
9-Ft. Dia. BUORD Sea Anchor
Force 8-9 Conditions
File S/C-7, obtained from Roger Ayers, Ft. Lauderdale, FL. - Vessel name Marney, hailing port Ft. Lauderdale, catamaran ketch, designed by James Wharram, LOA 35' x Beam 17' x Draft 2' 6" x 3 Tons - Sea anchor: 9-ft. Diameter BUORD on 300' x 1/2" nylon three strand tether and bridle arms of 25' each, with 1/2" galvanized swivel - No trip line - Deployed in a low system in 100 fathoms about 25 miles east Cape May, with winds of 35-45 knots and seas of 10-12 ft. - Vessel's bow yawed 30° - Drift was estimated to be 12 n.m. during 6 hours at sea anchor.
Marney, a 35-ft. Wharram "Tangaroa" was home-built by Roger and Marney Ayres, who have been chartering, delivering and crewing yachts on the east coast, the Caribbean and Europe. In June '85 they were sailing her to Florida when they were overtaken by a frontal system off the coast of New Jersey. The wind was blowing Force 7-8, contrary to a southerly current, producing steep, short-duration seas of 10-12 ft. They deployed a 9-ft. diameter BUORD. The parachute was not big enough to do an adequate job of keeping Marney pointed into the seas. Her twin bows were yawing about 30° off to each side - through an arc of 60°. The rudders seemed to be under inordinate strain as well. Transcript:
We were caught departing from Cape May with a good forecast of 10-15 knots. As the afternoon wore on and we reached out, the wind freshened. We decided to beat as far offshore as possible, which we did, finally reduced to storm staysail and a double-reefed main. In this, our first real blow in this boat, we were not operating as "professionally" as we might have, and concerned ourselves only with getting offshore in case the wind backed further to the east, not noting our exact position, etc. just beating on [trying to gain ground].

The sea anchor was deployed from the bows, but allowed too much leeward drift (estimated 2-3 knots), and also allowed us to fall back off the steep, short seas, which had built up in the southerly current. I think that falling back off a larger 15 ft. wave at an angle, we broke both tillers. Note that a catamaran with two large transom-hung rudders, when backing into a trough and burying the sterns, exposes two blades, and two sets of cheeks to the force of the water, approximately 4 times the area of a typical trimaran spade rudder. It is therefore essential that this type of boat (like a Wharram) make no sternway, else use the sea anchor off the stern.

We are saving the BUORD for use as a "lunch hook," but now have a 24' diameter parachute for use off the bow.