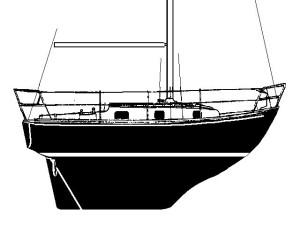 S/M-26
Bristol Sloop
27' x 3.5 Tons, Full Keel
9-Ft. Dia. Sea Anchor
Force 8-9 Conditions
File S/M-26, obtained from Bud Clay, Pensacola, FL. - Vessel name Miracle, hailing port Pensacola, Bristol sloop designed by Carl Alberg, LOA 27' x LWL 22' x Beam 8' x Draft 4' x 3.5 Tons - Full keel - Sea anchor: 9-ft. Diameter Para-Tech on 80' x 1/2" nylon three strand rode with 1/2" stainless steel swivel - No trip line - Deployed in a low system in deep water in the Gulf of Mexico about 150 miles NW of Tampa with winds of 35-45 knots and seas of 9 feet - Vessel's bow yawed 30-45° during 14 hours at sea anchor.
Miracle, a full-keeled Bristol 27, was en route to Pensacola from Tarpon Springs (300 miles as the crow flies across the Gulf of Mexico) when she ran into a cold front in the month of June! Bud Clay told Victor Shane that a friend had loaned him the para-anchor, "just in case." At any rate, when the wind switched and started building right on the nose Clay beat into it for a couple of nights and a day.
Being shorthanded, tired and sleep-starved he deployed the para-anchor at three in the afternoon of the next day. He spent the night at sea anchor, managing to get some sleep in between trips forward to check for chafe. He felt somewhat rested up by next morning, at which time the wind and seas subsided and he was able to get underway again. Clay, who is now building a 31-ft. Farriar trimaran, told Shane that he would never go offshore without a sea anchor.