D/C-8
Catamaran, Crowther
40' x 26' x 3 Tons
Sea Squid Drogue
Force 9-10 Conditions
File D/C-8, obtained from Dr. Gavin Le Sueur, Mallacoota, Australia - Vessel name Windswept, hailing port Mallacoota, catamaran, designed by Lock Crowther, LOA 40' x Beam 26' x Draft 2' 6" x 3 Tons - Drogue: Sea Squid on 300' x 3/4" nylon braid tether, with bridle arms of 28' each - Towed in a whole gale in deep water from Perth to Adelaide with winds of 40-50 knots and seas of 20-30 ft. - Vessel's stern yawed 20° - Speed was reduced to about 4 knots.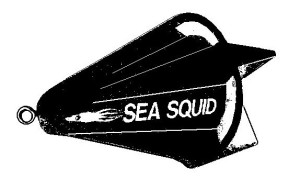 Although the Sea Squid is no longer in production we are presenting files that involve its use because they contain invaluable insights relating to the use of speed-limiting drogues in general. Dr. Gavin Le Sueur (see also S/C-16) used Australian Sea Squid drogues in the rough 1988 Two Handed Around Australia Race, the same race in which Peter Blake participated on Steinlager II (File D/T-1). Transcript:
I was offered a 40ft Crowther catamaran to sail in the 1988 Two Handed Around Australia Race. I crossed the starting line with Catherine [wife to be] as my crew. We were given a plastic "Sea Squid" drogue to test during the race. The first night brought a southerly buster that capsized a 35ft trimaran (Escapade), sank a police launch and cost the life of a crewman on a monohull (Boundary Rider). We towed the Sea Squid on 300ft of 1" braided nylon. It porpoised all night [diving in and out] and by dawn we were just dragging rope with a small plug of plastic shackled on the end. At the first stopover we were given a second Sea Squid. This one had a reinforced head (fiberglass resin poured into the bolt attachment). After a gale in the Coral Sea the inlet valves of this Sea Squid had split and folded back. Again this one would leap out of the water on occasions. At Darwin we were given a third Sea Squid to test. This time the inlet valves were smaller and reinforced across the center. We added 6ft of anchor chain right next to the drogue. This stopped the porpoising.

While crossing the Southern Ocean from Perth to Adelaide all competitors went through gale after storm. We could not carry full sail for 3000 miles! We towed drogues and warps for most of the way. The last Sea Squid worked famously. With the chain, reinforcing and altered inlet valves, we had no further structural failure. It was speed limiting to approximately 7 knots. We no longer surfed down waves, and often would add sail before taking in the Squid so that we could maintain a constant 7 knots and not stall in the troughs.

The drogue bridle ran inboard from each hull to two winches so that the arms could be adjusted for steering. The tether itself continued into the cockpit and the bridle arms were spliced together and the combined end bent onto the tether with a rolling hitch with a lock. The tether was then let out until the bridle grabbed. It was secured to another winch as a backup if the bridle arms failed, or the knot came undone. This never happened. We finished the Around Australia Race in second place in the 40ft division, third multihull over the line behind Steinlager (Peter Blake) and Verbatim (Cathy Hawkins and Ian Johnston). On the finish line I asked my crew to marry me and surprisingly she said yes!

Our drogue system has continuously undergone experiment and changes. These changes are entirely experimental and apply only to our catamaran, but may be of use to others. Our first problem was the stowage of the Sea Squid, and rigging it for convenient use. It meant getting out our short length of chain off the breakfast anchor line [lunch hook]. It usually meant digging the Squid out from the recesses of the bow. We read about textile drogues and have tried four systems since 1992. The first was a scaled down parachute. It worked out but slowed the cat to less than 3 knots in 35-knot winds. Too slow to avoid getting pooped. We then tried a "series" drogue, provided as a trial. It slowed the boat, but was a stowage mess and very impractical. We then tried a textile drogue that was fluted. It was like a normal parachute (3ft diameter) but with the middle ten inches removed and the continuous shrouds holding the two pieces of material together [see image below]. This fluted drogue worked as well as the parachute - 3 knots and too slow in 35-knot winds and 12ft seas. We had the drogue re-shaped by Para-Anchors Australia, the outlet hole enlarged and a rope tie put into the ends of the shrouds so that we could adjust the outlet [as with a drawstring bag].

Adjustable pull, "fluted" drogue conceived by Australian Gavin Le Sueur is similar to drogue used by NASA to lower the Pathfinder mission onto the surface of Mars. Note the drawstring arrangement on the smaller ring, allowing the outflow diameter to be adjusted from 14" to 4" to increase or reduce pull. The optimal pull for a particular boat will have to be determined through prior trial and error and in practice runs. The drogue cannot be adjusted while in use.

With all three drogues and the Sea Squid we put out to sea for a twelve month cruise. We have used the variable outlet - fluted - drogue four times in anger, using it to control our speed, or to stop surfing, or to ease the work of the autopilot. In 37-knot gusty conditions we sailed up to 8 knots with the outlet open. We put up our storm spinnaker (a small, bulletproof racing kite with a low center of gravity) and we were unable to push the boat speed over 8 knots. With 200ft of rode it appeared that the drogue rapidly increased the turbulence as we increased the pulling power [by adding sails]. It was as though we had hit a speed barrier. We winched it in (about ten minutes hard yakka) and then re-launched it with the outlet hole tightened up (from 10 inch diameter to 4 inches). We were then back to three knots boat speed. Again we were unable to exceed this speed. It took a bit longer to haul it in the second time but the exercise seemed fruitful. I thought it justified further development and sent a copy of the reports to Para-Anchors Australia. Why a variable drogue? Vary the outlet hole so that one drogue can work for different boats. On any boat, with practice (essential) you can "dial a speed limit." A simple system that is stowed in the cockpit without hassle. At no time did any of the textile drogues break the surface, although I would add a weight if I was to run downwind in tumbling sea conditions.
Dr. Le Sueur's "fluted" parachute drogue is similar in concept to the ringsail and disk gap-band drogues used by NASA and the Aerospace Industry. Alby McCracken of Para-Anchors Australia has developed Dr. Le Sueur's idea - replete with drawstring drag adjustment - and is now offering models for sale (see Appendix III at the back of this publication).