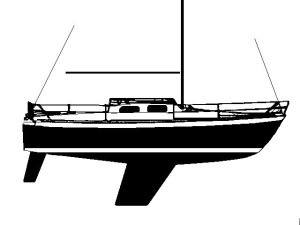 D/M-18
Monohull, Cal T-2
27' x 3 Tons, Fin Keel
36" Dia. x 72" Conical Drogue
Force 9-10 Conditions
File D/M-18, obtained from Wes Thom, Brownsville, TX - Vessel name Paper Dragon, hailing port Annapolis, monohull, Cal T-2 designed by Bill Lapworth, LOA 27' x LWL 24' x Beam 10' x Draft 5' x 3 Tons - Fin keel - Drogue: 36" x 72" heavy duty, Coast Guard approved cone made by Cal June, on 125' x 1/2" nylon three strand tether and bridle arms of 10' each, with 1/2" galvanized swivel - Deployed in a whole gale in deep water about 125 miles west of Bermuda with winds of 45-50 knots and seas of 20-25 ft. - Vessel's stern yawed 20-30° - Speed was reduced to about 2 knots during 48 hours of deployment.
Wes Thom has delivered yachts on the east coast and across the Atlantic. En route to Bermuda on his own boat, a 27-ft. Cal T-2 designed by Bill Lapworth, he had occasion to use one of the heavier 36-inch diameter Coast Guard approved cones manufactured by Cal June of Los Angeles. This is quite a large cone, about six feet long, not to be confused with the smaller "fish trolling" ones made by Cal June. It was deployed on 125' of rode and Wes Thom and his wife saw it being repeatedly tumbled by the crests. Thom did not consider the tumbling a drawback at the time because the cone would always recover and re-exert its pull at the needed time. Transcript:
We had been sailing from Cape May to Bermuda. Two days out, on a Wednesday, we talked to a Russian tanker by radio and were warned by an individual, who seemed to be out of breath, to head back for the mainland immediately. Basically he told us that a bad storm was on the way and a small boat like ours had no business being out there. He said they were increasing their own speed to full speed to avoid the storm. We thanked them, but told them we could not get to land that fast. They said "God bless you, we will pray for you."

At 7000 hrs Friday we had a full main and 150 jib up. As the wind increased we rolled in the 150 and hanked on a working jib. At 1100 hrs first reef in main. At 1200 hrs 2nd reef. At 1400 hrs storm jib. At 1500 hours no main. At 1600 hrs bare poles. At this point we were still going in the general direction of Bermuda about 1.5 knots, and a little concerned about the reefs around Bermuda if the storm blew us all the way there. We were 100-125 miles west of Bermuda, our course NE, the wind out of the south. As our speed increased to about 6 knots, occasionally surfing at 10-11 knots, we put out two warps. No knots, no weights, just 150' of 5/8" line [nylon three strand] off the port winch, and 300' of 1/2" [nylon three strand] off the starboard winch. With the warps out our speed came back down to 1.5 to 2 knots, still heading NE. We thought if we needed to we could always use the port winch to pull the warps in and add weights etc. In reality we could never have done that. The strain on each warp, even after the worst part of the storm, was amazing. The 5/8" warp was pulled so tight it would make noises like a cello string, and the 1/2" warp had an even higher pitch, like a guitar string. After putting out the warps we later rigged a 125' piece of 1/2" line, the end securely bridled through corner stanchion bases, with a 2-size larger CAL JUNE conical drogue [36" x 72" Coast Guard Approved "Storm Sea Anchor"]. When our speed got back up to 6 knots [with warps in tow] we deployed the cone, which brought our speed back down to 1.5 knots [the two warps coming off port and starboard winches and widely spaced to right and left, the Cal June cone and its tether in the center].

Most of the waves seemed to be breaking before they got to the boat, but a few would drop 10" of water in the cockpit. At night we also steered by listening for the oddball waves crossing the others. They sounded a bit like a train when they hit, rocking us sideways if we had not turned down wave for them. The main waves were out of the SW. The odd ones from the S or SSE.

In the daylight we could see that the waves were not less than the height of our spreaders (about 25') and about 150-175' from crest to crest. We were in deep water east of the Gulf Stream, WNW of Bermuda, still headed NE. We could look behind and watch the drogue start up a wave as we came over a crest. We could see it tumble on its own crest as we slid down the back side of ours. About the time we were in the trough it would grab again, and up and over the next crest we would go. We could clearly see the yellow cone tumbling repeatedly. It would get rolled, get tossed around, go end over end and everything in between. But it wasn't getting turned inside out, and it seemed to be doing its job when needed.

Most of the time we could let the autopilot steer. We could get 2-3 hours of very good sleep, even with the freight trains coming every once in a while. Once, when I was inside and looking through a port hole I saw the bow get buried by green water, which then turned white, and rolled off, and I could see the bow again. Sunday morning (48 hours later) it starting moderating. By 1600 hrs we had hauled in our CAL JUNE. It had to be winched in, a few feet at a time, when it was tumbling on the crest behind us. The sea was still sloppy when we set sail and the last warp [which was still left out] served to ease our motion.

We believed we had been blown 50-75 miles WNW of Bermuda and set a course for south. Monday morning we got our first celestial sight, and a few hours later a running fix, but something was very wrong. Our intercepts were very long and our sights had never been this far off before. Theory says you don't have to know an exact DR. Just guess. So I picked 500 miles NE. The intercept said no, not there. I tried 500 miles NW - no not there. I tried 500 miles SE - not there either. But they all said "here," so I moved my DR there, and sure enough, I knew where we were. From the last known DR position we had been blown 125-150 miles. We had overshot Bermuda! By Monday about noon I knew we had sailed south past the East Coast of Bermuda and now had to double back to the NW to get to our destination. Monday night we were in St. Georges Harbor, tied up, in good condition, undamaged, safe. Our only loss was the 150' x 5/8" three strand warp. It had unlayed and hockled in the middle, in random 10' sections, and had to be scrapped. Not much to pay for a safe trip.