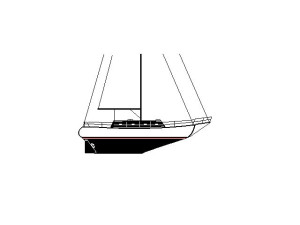 D/M-5
Monohull, Tayana
37' x 11 Tons, Full Keel & Cutaway Forefoot
Warps, Submerged Dinghy, Etc.
Force 11-12 Conditions
File D/M-5, obtained from Patton S. King, Houston, TX. - Vessel name Hudie, hailing port Houston, monohull, Tayana, designed by Robert Perry, LOA 37' x LWL 31' x Beam 11' 6" x Draft 5' 8" x 11 Tons - Full keel & cutaway forefoot - Drogue: Four warps, 250' each, with various items attached, including buckets, tarp, sail bags and submerged 8-ft. fiberglass dinghy - Deployed in hurricane Juan (October '85) in 100 fathoms of water about 130 miles SE of Galveston, with winds of 90 knots and seas of 30 ft. - Vessel yawed 40° and was eventually rolled full circle by a rogue wave, necessitating abandonment.
Hudie, a seakindly, canoe-stern Tayana 37 designed by Robert Perry, was on her way to Key West from Galveston in October 1985. To the east, a tropical depression had formed, which soon matured into a tropical storm, and was later upgraded to a full-fledged hurricane, named Juan by the National Hurricane Center in Miami. In the language of meteorologists, the term re-curvature refers to the shift in direction of the path of a hurricane, from a westerly to an easterly component of movement. Trying to predict when and where a hurricane is going to re-curve is the sort of thing that gives the men and women of the National Hurricane Center migraine headaches. Juan wasn't about to make things any easier. It was "all over the place," stalling and moving about erratically - playing a game of hide and seek with the forecasters.
Juan was only category 1 in stature, weak in so far as hurricanes go. In terms of damage, however, it would soon prove itself to be one of the worst storms in history. On October 28th, for instance, it forced 80 oil workers on 2 offshore rigs to take to life boats. On the 29th it sank an oil barge with 3 crewmen on board. On the 30th it was lashing the Louisiana coast for a second day, causing an estimated fifty deaths and one billion dollars damage. Governor Edwin Edwards said that Juan had done more damage to the state than any storm in history, and President Reagan had to declare the state of Louisiana a disaster area on November 2nd.
Meanwhile, back on Friday October 25th, Hudie was down to her last reef points, with the storm jib pulling like a bulldozer. The seas continued to build rapidly and on Saturday night she found herself engulfed within Juan's spiraling arms. Wind: Force 11-12. Hudie was running before 30-ft. seas now, averaging 6 knots on bare poles. With options narrowing the owner, Patton S. King, deployed a 9-ft. diameter BUORD on the fly, believing that it would stop the boat and pull the bow around, or at least partially around. No swivel was used. The rode consisted of 200 feet of 5/8" diameter nylon three strand, leading out of the port bow chock. The shock of the opening parachute was noted, along with extremely high tension in the rode. The boat's speed decreased from 6 knots to 3 knots. But Hudie did not round up into the wind. She didn't even come beam to the seas, but instead assumed a heading still downwind, with the seas on her quarter and with the rode leading off the bow, bent under the keel and trailing out astern.
We should digress briefly and ask the question as to why the 9-ft. diameter BUORD failed to exert some sort of a pull on the bow - make the boat stop, turn around and begin facing into the wind and seas. There are several possible answers.
In the first place, with nearly six feet of draft, a full keel and the forefoot cutaway, the Tayana 37's CE (center of wind effort) is well forward of her CLR (center of lateral resistance). A yacht like this won't even lie a-hull in hurricane force winds. Rather, she will tend to point downwind. For a sea anchor to countermand this tendency and actually pull the bow all the way around it would have to be larger - in the order of 15-18 feet in diameter.
In the second place, there is the matter of the torque associated with three strand rope under extreme dynamic loading. The chute was set on the fly, resulting in a significant shock when it opened. No swivel was used (not that it would have been able to rotate, initially) and extremely high tension was noted in the line. What happens to three strand rope when it is subjected to this sort of extreme loading? It torques. In trying to unlay, it will stiffens and rotate like an engine shaft, twisting the parachute shroud lines together into a thick lay and reducing the diameter at the mouth of the parachute. The sea anchor was too small to begin with, and with its mouth choked shut it could not possibly have pulled the bow of Hudie around into the seas.
At any rate, twenty minutes later the rode parted from chafe under the keel, and the boat resumed its 6-knot run down streaked mountains of water. Four warps, 250 ft. each, were then trailed over the stern, with various items attached, including buckets, 2 tarps, sail bags, an igloo ice box (full of ice and pop) and a submerged, 8 foot fiberglass dinghy. The combined drag was enough to slow Hudie down to 3 knots again. In fact, from 10 p.m. on Saturday, until 6 a.m. Sunday, the makeshift drogues improved the behavior of the boat to such an extent that in subsequent telephone conversations with Victor Shane, Patton S. King said that he could not have been happier with the way things were going.
At approximately 6 a.m. Sunday, however, it is thought that a rogue wave picked up Hudie, carried her sideways, broke and rolled her through 360° in about twelve seconds. Instantly cans, bottles, tables, utensils, floor boards and people were rolling around in total shambles inside - with broken glass everywhere. There was much evidence of roof damage, with extensive damage to the rigging, mast and spreaders. All the crew had sustained injuries, fortunately nothing major. They could not raise the Coast Guard, but a call to "any vessel" was soon answered by a couple of tugs and a commercial fishing boat. In the meantime they cut away all warps, started the engine, brought the bow around and began jogging into it.
By 3.30 p.m. Sunday afternoon the situation had become altogether untenable - all pumps clogged or broken, engine rapidly overheating and the boat being hammered by 25-ft. seas. When the F/V Gulf King appeared and agreed to take the crew aboard the decision was made to abandon ship. Soon all were safely aboard the Gulf King. Their last view of Hudie was seeing her get knocked down in the distance.