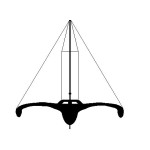 D/T-2
Trimaran, Newick
31' x 26' x 1.5 Tons
5-Ft. Dia. Shewmon
Force 9-10 Conditions
File D/T-2, obtained from Thomas Follett, Orange City, FL. - Vessel name Galliard, Val ocean racing trimaran designed by Richard Newick, LOA 31' x Beam 26' x Draft 5' (2' 5" board up) x 1.5 Tons - Drogue: 5-Ft. diameter Shewmon (sea anchor) on 200' x 5/8" nylon braid tether, with bridle arms of 80' each and 1/2" galvanized swivel - Deployed in a whole gale in deep water about 300 miles east of Cape Cod, with winds of 45-50 knots and seas of 12-15 ft. - Vessel's stern yawed 10-20° during 48 hours of deployment.
This is one of several files Victor Shane was able to obtain from Thomas Follett. Follett delivered hundreds of boats all over the world. In February 1985 Follett and crew were delivering Galliard, a Newick Val 31 ocean racing trimaran, to Villa Mora, Portugal, from Vineyard Haven, Massachusetts when they ran into a heavy gale some 300 miles east of Cape Cod. Follett deployed a 5-ft. diameter Shewmon sea anchor off the stern - in drogue fashion. The boat was hove to the Shewmon for 48 hours, during which time the sea anchor must have withstood over 40,000 wave cycles. Transcript:
A crew of two and heavy load of stores. Boat was essentially a daysailor and not suitable for the North Atlantic in October, and we ended up returning to Norfolk. About 300 miles ESE of Cape Cod a NE breeze came up and increased to Force 8 or 9 with rough seas. Streamed a 5' drogue with a bridle to the stern ends of both amas [floats]. Bit of nuisance with the stern of the aka [main hull] jutting out and all cluttered up with antennas and with a spade rudder hanging down. Managed to get part of the bridle under the rudder at one time and this took some time to sort out. Unlike Rogue Wave [see file D/T-3] there was not enough windage on Galliard. Finally had to set a storm jib in order to reduce the tendency to surge forward and then snap back, as though tethered to a rubber band. Caused the drogue to collapse after a time and we had to reel it in for a sorting out. In general, however, we lay quite comfortably about 20° off the wind and very few seas broke aboard in spite of the heavy load of stores and crew. No damage to the drogue, except for the swivel, which got crosswise somehow.
Before 1981, Tom Follett was using warps and other makeshift drag devices during his deliveries. Typically the setup consisted of two lengths of rode, with a bit of sail or chain in the bight. The arrangement proved itself quite satisfactory when Follett was delivering lightweight multihulls. Here is a transcript of a report involving one such occasion:
Vessel name, Bonifaccio, 41-ft. trimaran designed by Dick Newick and built by Damien McLaughlin for a French owner to sail in the Double-Handed Trans Atlantic Race from Plymouth, England, to Newport, R.I. in 1980. Used warps (3/4" braided nylon) from both ama sterns with a 10-ft. piece of 1" chain in the bight. Each warp was about 200 ft. Wind about Force 8 from SW (blowing us in the right direction, i.e., towards Plymouth) with heavy rain. Rough sea. One part of the bridle led through a snatch block on the Ama stern and back to a cockpit winch. Very easy to handle the whole mess and the boat rode very easily. Not necessary to steer. Fresh breeze only lasted one night and we were back in gear about noon the next day. Fair amount of drift. About 2 knots, more or less.

General comments: The trimaran configuration makes the use of a bridle difficult when streaming a drogue off the stern. If one could get around to setting things up with the wind about Force 4, life would be easier. But unfortunately it's often Force 8 or more before one gets around to it. Then the difficulties are magnified and one often ends up doing it all wrong. The ideal system would be one which is easy to sort out, does not put too much strain on the boat or fittings and holds the boat fairly steady while riding easily. Not exactly compatible factors.