S/C-18
Catamaran, Island Spirit
34' x 22' x 6.7 Tons
18-Ft. Dia. Sea Anchor
Force 8 Conditions
File S/C-18, obtained from Colin Kenny, Riebeek, South Africa - Vessel name Manx, hailing port Cape Town, catamaran, designed by Phil Southwell, LOA 34' x Beam 22' x Draft 3' 4" x 6.7 Tons - Sea anchor: 18-ft. Diameter Para-Tech on 500' x 5/8" nylon three strand tether and bridle arms of 60' each, with 5/8" stainless steel swivel - No trip line - Deployed in a gale in deep water about 800 miles ESE of Rio de Janeiro with winds of 35-40 knots and seas of 30 ft. - Vessel's bow yawed 20° - Drift was estimated to be 17 n.m. during 40 hours at sea anchor.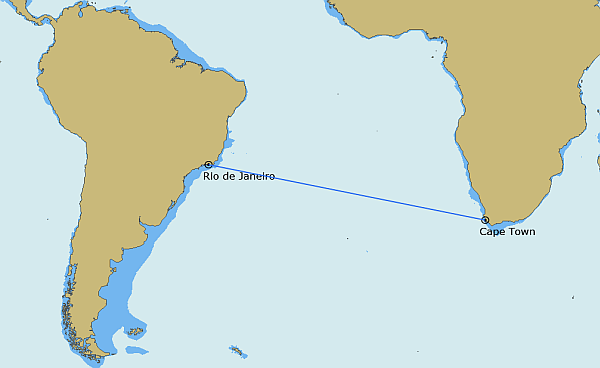 Colin Kenny sailed Manx to a first place finish (multihull class) in the 1996 Cape Town to Rio Race. He deployed a para-anchor because of a combination of injury and bad weather on the return trip. Transcript:
We took part in the Rothmans Cape to Rio race in MANX, a 35' Southwell-designed catamaran displacing 6.7 tons. She was fitted with an Aerorig - the first unstayed carbon rig seen in this country. After a race dogged (if you will excuse the pun) by light winds, we arrived in Rio in 26 days 4 hours to finish first overall in the multihull category by a matter of 40 hours.

After spending three weeks in the islands south of Rio, we left for Cape Town on 25 February. We were sailing double handed, myself and Sue, who has only been sailing for the past year. The winds were SE instead of the anticipated westerlies. Heading south with a view to picking up the south westerlies we made good progress.

On the afternoon of 4 March, after having put in a third reef because of increasing winds and a deteriorating sea state, I was struck by the boom whilst returning to the cockpit and knocked unconscious. I was only out for about five minutes but had sustained a nasty gash on the head, which bled profusely. After coming round, I was in a confused state of mind and Sue sought assistance by putting out a PAN PAN radio call, but to no avail. We were more successful when we tried Inmarsat C. In addition, we finally raised Cape Town Radio and received the necessary medical advice. Being so far from land (our position was 33° 30' S and 31° 25' W) all we could do was monitor vital signs for the next 12 hours and hope for the best. Suffice it to say that those were the longest hours imaginable. Fortunately there were no complications.

Twenty four hours after the accident, we had even more drama. We were on a reciprocal course heading NE (in case we needed assistance). Sailing with triple-reefed main and no headsail (damaged the previous day) and using engines for improved direction in very strange, mountainous seas, we were concerned as to how we were going to make it through the night. In addition I was extremely weak after the accident. On the radio we heard that Tigress, a 38' Prout catamaran [in the same region], had deployed her para-anchor. Speaking to them on the radio they were astonished at the difference in outlook subsequent to deploying the anchor. They urged us to do the same.

I had some misgivings as I did not have the necessary primary float, trip lines or recovery float. Instead we lashed two fenders together to act as the primary float, and a small fender as the recovery float, but without a [full] trip line. With great difficulty, we deployed the anchor to windward. I say with great difficulty since we did not have a trampoline to walk on - it had UV degraded and been ripped away by constant wave action. Since our bridle was to be cleated to primary cleats on the cross-beam and backed up by secondary cleats on the bow, it was tricky, to say the least, to crawl forward and cleat the bridle ends and get the tether through the stanchions on the cross-beam, thereby ensuring that they would not snag and run free. The para-anchor was deployed off the starboard (windward) bow. Initially it looked as if we had made a mistake, as the tether was swept under the bow and I had visions of it passing below the keel and snagging the sail-drive. I snubbed the tether, the anchor began deploying and the bow started to swing around. We released more tether, snubbing the line at intervals until the full 500 feet of tether was out on 60 foot bridles.

It was miraculous how easy the boat felt - as if someone had switched off the wind and sea conditions. Yaw was minimal - 10° (if that) to either side. It had taken us a fair amount of time to prepare both ourselves and the anchor, but we had no idea how satisfying our efforts would prove to be. It was now 20:00 and we settled down to a peaceful night. At 01:30 Sue, braving the black night, high seas, 35 knots of wind (and no trampoline), checked the bridle [leading directly off cleats, no chocks] for chafe - nothing! Similarly at dawn - no chafe. After lying at anchor for 40 hours, we were surprised to find no signs of chafe. I can only think that because we had a longer rode out than ordinarily required, the stretch of the nylon was such that there was next to no additional stress on the boat and the cleats, and hence the rode....

At 10:00 on 7 March, after 40 hours at anchor, we hauled it in - the rode was pulled through the bow roller and winched in using the winch on the boom. The two larger fenders (primary float) were missing, but the small additional fender we had attached to the float line was still there. The chute was partially collapsed and, as a consequence, tangled. However it was clearly still functioning, although not as effectively.

After visiting Tristan da Cunha for a medical check-up, we encountered four gales on the trot, but the sea state was never as severe as that which we had encountered on the Bromley Plateau. We sailed under storm jib alone, which proved effective. There were times when we took a lot of water over the boat, however the conditions were never bad enough to deploy the para-anchor again. But the simple knowledge of how effective it had been and that we could deploy it again and expect the same results gave us a great deal of confidence (not over-confidence!) in our ability to sum up the situation and continue sailing. We had an ace up our sleeve. We arrived back in Cape Town on Easter Monday, 8 April 1996. To say that I was impressed with the para-anchor would be a gross understatement - I am mightily impressed.... Any multihull skipper that goes to sea without a para-anchor is being foolhardy.