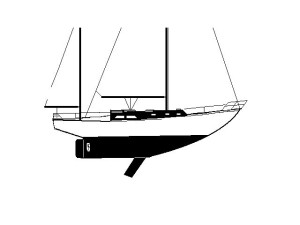 S/M-10
Hinckley Bermuda 40 Yawl
40' x 10 Tons, Full Keel & Centerboard
12-Ft. Dia. Sea Anchor
Force 8 Conditions
File S/M-10, obtained from the owner of the boat - Vessel name Windswept, hailing port Gloucester MA., Hinckley Bermuda yawl, designed by Bill Tripp, LOA 40' x LWL 28' 10" x Beam 11' 9" x 10 Tons - Full keel with centerboard drawing 8' when down and 5' with the board raised at sea anchor - Sea anchor: 12-ft. Diameter Para-Tech on 400' x 1/2" nylon three strand rode with 5/8" galvanized swivel - No trip line - Deployed during passage of frontal trough in shallow water (30 fathoms) off the coast of Maine, with winds of 35-40 knots and seas of 8-10 feet - Vessel's bow yawed less than 10° - Drift was estimated to be 2 n.m. during four hours at sea anchor.
The 12-ft. diameter Para-Tech sea anchor was deployed in a low system, about thirty miles offshore, near Portland, Maine. Transcript:
This was not a whole gale or survival storm. I was alone, wanted to rest, wanted to minimize drift, and wanted to experiment with my sea anchor. After deployment my yawl lay absolutely bow to the wind and waves with very little yawing. My boat does not have a cutaway forefoot, the board was up and the waves were not high enough to blanket the wind when the boat was down in the troughs.

With 400 ft. of rode there was absolutely no shock loading at all. No feeling of either being pulled through the waves or falling backwards on the rudder. My boat rode like a duck up and over each wave always nose to the wind. Altogether a very pleasant, safe and secure feeling.

The only two things I worried about were (a) commercial fishing interests in the area not seeing me and running over my anchor line, (b) cross waves approaching from the side of the boat and rolling her. With no sail set there is nothing to steady the boat side to side.
The Hinckley Bermuda 40 has a symmetrical full keel with considerable overhang at both ends (the waterline length of the boat being only 28' 11"). This particular Hinckley also has an auxiliary centerboard, which was in this case raised at sea anchor. Even so, she behaved well and pointed very high into the seas, doubtless because of the aft windage of her rig. Look for the relative positions of the CLR and CE and you will see a recurring pattern in all the monohull files.