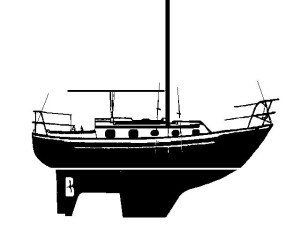 S/M-18
Crealock 34 Cutter
34' x 6.75 Tons, Low Aspect Fin/Skeg
15-Ft. Dia. Sea Anchor
Force 8-9 Conditions
File S/M-18, obtained from John R.S.Charlton, Oceanside, CA. - Vessel name Fancy Free II, hailing port Oceanside, Pacific Seacraft cutter designed by Bill Crealock, LOA 34' 1" x LWL 26' 2" x Beam 10' x Draft 4' 11" x 6.75 Tons - Low aspect fin keel and skeg rudder - Sea anchor: 15-ft. diameter Para-Tech on 300' x 1" nylon three strand with 1/2" stainless steel swivel - Deployed in deep water about 550 n.miles NE of Hawaii in a whole gale with winds of 40-50 knots and seas of 30 feet - Vessel's bow yawed 10° - Drift was reported to be "minimal" during 12 hours at sea anchor.
Fancy Free II was en route to Kaneohe, Hawaii from Oceanside, California in the month of January. She ran into a south-westerly gale and had to use her 15-ft. diameter Para-Tech sea anchor. Owner's handwritten remark reads thus:
Great product. Unfortunately, my helm was not lashed down securely - steering cable broke at quadrant. (Large wave lifted stern and rudder slammed over to "stops").
Fancy Free II is a sister ship to N'ISKU (see illustration in previous file). Both of these Crealocks behaved very well at sea anchor, yawing less than 10°. Note that N'ISKU used 400' x 1/2" nylon plus 50' of chain, while Fancy Free II used 300' of 1-inch nylon, and yet both boats behaved equally well. In looking for causality one has to put on a Sherlock Holmes hat and try to find some basic virtue in Bill Crealock's design, something that makes these boats yaw so little - probably the closeness of the CLR to the CE - while not losing sight of other variables such as the rode length that determines the relative positions of the boat and sea anchor.