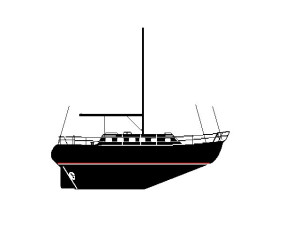 S/M-23
Tayana 42 Cutter
42' x 15 Tons, Full Keel & Cutaway Forefoot
18-Ft. Dia. Sea Anchor
Force 8-9 Conditions
File S/M-23, obtained from Captain Robert Proulx, Homer, Alaska - Vessel name Even Star, hailing port Homer, Tayana cutter designed by Bob Harris, LOA 42' x LWL 35' x Beam 12' x Draft 6' x 15 Tons - Full keel & cutaway forefoot - Sea anchor: 18-ft. Diameter Para-Tech on 400' x 5/8" nylon braid and 200' of chain with 5/8" custom-made bronze ball bearing swivel - Partial trip line - Deployed in a gale in deep water about 60 miles west of Humboldt Bay, California, with winds of 40-45 knots and seas of 15-20 feet - Vessel's bow yawed 20° - Drift was about 12 n.m. during 72 hours at sea anchor.
Captain Bob Proulx is a veteran of the Alaskan fisheries - the owner of a 105-ft. fishing vessel working the Bering Sea. He is also a marine safety instructor and an avid sailor. In this file he provides a sobering tale of what one might be getting oneself into when one asks the Coast Guard for assistance in marginal situations. Forewarned is forearmed!
My family and I decided to put commercial fishing "on hold" and go sailing. The early part of our voyage was great as we cruised the inland waters of the Pacific Northwest. Our story begins as we set sail southbound from Newport, Oregon on July 12. Winds were light, 10-15 NW, but began to build by evening, reaching sustained 30 from NW. By 2300 hrs. it didn't look like conditions would improve, so we shortened sail and decided to try out our new parachute sea anchor. Better try it out now, than have to sort out glitches when we absolutely have to use it. Deployed the sea anchor on 400' of rode, the bitter end secured to the 66 lb. Bruce anchor on the bow roller. It stabilized the boat and we were pretty comfortable, despite the 30+ winds and 15 foot seas. I lashed the helm, took the pendulum off the windvane and secured it to the rail.

Overnight the weather worsened. The barometer hadn't dropped and the weatherfax wasn't showing anything, so I though it would all be over in a few hours. I had all the hatches dogged down and all the vents capped off, just in case. The seas and swell built to 18-20 ft. and the wind was on the increase.

At first light I checked the rode and damn if it wasn't chafed at the thimble by the anchor on the bow roller. So I let out the anchor and 50 feet of chain. This eased the motion of the boat noticeably. The wind increased to 40 knots and higher. This was beginning to remind me of Bering Sea weather, having the earmarks of a good blow. But at least it was warm and everyone on board was in good spirits. The swells and the seas were getting farther apart and the boat more uncomfortable, so I let out more chain - now about 200 feet. The boat then began to yaw noticeably [too much chain out - review page 3.14].

We experienced some waves breaking forward of mid-ships, port and starboard, and on our stern quarter. Next, our rudder cable parted with a loud crack. I got the emergency tiller, put it on the shaft and lashed it secure. A wave broke over the starboard side at about a 30° angle and knocked the wind vane mast down. Before I could get a line on it another wave carried it away....

We had been on the sea anchor for better than 48 hours with not much to eat. My family wasn't sea sick, but my friend Joe was having a time of it. I decided to call the Coast guard and let them know our situation. I stressed that we had NO emergency, and requested the forecast for the next 48 hours. Due to worsening conditions, Humboldt Bay Coast Guard then decided to dispatch the 110-ft. cutter Edistow to the scene. The cutter arrived around 1600 hours. After circling around us for a while they called us on the VHF, saying that it was too rough to do anything. They said they would standby the rest of the night, advised us to get in our survival suits and said they would call every hour, which they did....

By morning the sea anchor was still holding well. I checked our drift. It was about half a knot. The wind had dropped to 30, but the seas and swell were now 20-30 feet. I have a great picture of the 110-ft. cutter with her bow and two thirds of her bottom out of the water. At this time the CG skipper decided that he would tow us to Humboldt Bay. I said NO. A little later he called back and said he would tow us south instead. This made a little more sense, though I was still not sure why I needed a tow. I thought, maybe he knew something about the weather or our situation that I didn't. Anyway, he asked if I had a drogue [to stabilize the tow]. It took them two attempts to pass us a drogue. I then asked the skipper of the cutter to pick up our trip line on the sea anchor, to retrieve the sea anchor and its nylon rode - attached to our Bruce anchor - and attach his own tow line to that. This way the CG cutter's bow would be into the oncoming seas, so would ours, and this would be the safest for both boats. He said 'NO', he said that would be too dangerous for his crew. This started me worrying. I explained again how the sea anchor was laid out, and that there was no chance of him getting the rig in his props. He came back and suggested that I retrieve the sea anchor and rig - 400' of rode, 66-lb. Bruce and 250' of 3/8" chain, in 20-ft. seas, with a hand windlass!

I have the greatest regard for the Coast Guard in Alaska. They have performed many amazing rescues and I have the greatest confidence in their ability to make the right decision at the right time. I assumed that all Coast Guard units along the coast would be the same. But now I was beginning to have my doubts.

Second mistake coming up: The cutter's skipper called me back, saying I should cut everything loose. I called him back saying I didn't like the idea of losing my last-ditch survival gear - meaning my sea anchor rig. And I told him I didn't like the idea of lying in the trough, sliding down the faces of 20-25 ft. seas. I asked him what the forecast for the next 48 hours was - he said "more of the same." I asked how he was going to approach us. I thought he said he would come in at our windward side, and then across our bow with the heaving line and 4" tow line.

Like an idiot I cut the chain loose from the boat. We swung around instantly in the trough and I knew in that moment that in all my years at sea I had never done anything so stupid. I told the CG skipper he would have ONE PASS, and ONE PASS only. My friend Joe and I crawled to the bow with our safety harness on, grabbing what we could to hang on. I was on the starboard bow, about two stanchions back, Joe being forward on the port side. I looked for the cutter and, Oh my God, it was downwind from us and coming at the wrong angle. And fast. I was hanging on for dear life, waving and screaming for him to abort. He rammed us about ten feet aft of the bow with his port stern quarter. I felt the cutter hit me, at the same time that it hit the boat, sending me flying forward through the air. The harness held - I felt a jolt at my shoulder. I had a death grip on the inner stay and looked up to see our bow pulpit and running lights hanging by the wires, the big double bow rollers twisted and mangled, the stanchions flattened on the deck. I yelled at Joe that we had to get below to see if she had holed us. Luck was with us: no hole.

The CG skipper called us to see if anyone was injured. We were all OK but I was furious! My wife Linda grabbed the mike before I could say what I was going to say. She told me to calm down. She said at least we were all OK. I unlashed the emergency tiller and brought our stern to the seas. The CG skipper then called back and said he KNEW he could heave us the tow line on the next pass! I said "no thanks!" I felt I had made enough mistakes in 72 hours to last a whole life. It was time for me to take command of the situation again. The CG asked what my intentions were. I said my intentions were to sail bare-poled out of there. He said that was not advisable and called Humboldt Bay CG to find out what to do next. Finally he came on the radio and told us that he would have to leave the area.

As the cutter pulled away I began to feel safe again. We were now running downwind, and our canoe stern was handling the 20-32 ft. seas superbly. The wind and seas let down in about six hours and we repaired the steering cables. The CG called us nearly every hour, wanting to know our ETA. The next day things calmed down and we motored into Bodega Bay.

The CG gave us a day to rest, before coming to take pictures of the damage the cutter had inflicted. They assured us it would all be taken care of. All we had to do was to fill out the claim report and find a yard to do the work - we needed to get two bids. A month after delivering the paperwork to the Alameda Coast Guard Station we have yet to hear anything about our claim.

Lessons Learned:

Don't call the Coast Guard unless it is an absolute emergency, life or death situation. Call other vessels in the area first.
Evaluate carefully any advice given by anyone - Coast Guard or any other vessels - trying to help you.
If you accept a tow from the Coast Guard you have given them the command of your vessel - in our case our home.
Never forget that you are the one in command of your boat and the responsibility is your's.