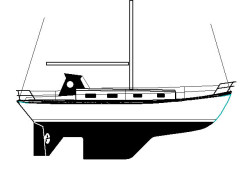 S/M-29
Morris Justine Sloop
36' x 9 Tons, Low Aspect Fin/Skeg
15-Ft. Dia. Sea Anchor
Force 9 Conditions
File S/M-29, obtained from Robert K. Gwin, Jr., Orange Park, FL. - Vessel name Osprey, hailing port Jacksonville, Morris Justine sloop, designed by Chuck Paine, LOA 36' x LWL 30' x Beam 12' 6" x Draft 4' 9" x 9 Tons - Low aspect fin keel & skeg rudder -
Sea anchor: 15-ft. Diameter Para-Tech on 300' x 5/8" nylon three strand rode with 5/8" stainless steel swivel - No trip line - Deployed in a whole gale in shallow water (100 fathoms) about 300 miles ESE of Jacksonville, with winds of 45-50 knots and seas of 15-20 feet - Vessel's bow yawed 20°
Like so may other case histories the benefit that Osprey derived from her sea anchor was all too brief. The rode chafed through. Transcript:
We actually did not deploy our sea anchor until the storm had peaked and perhaps began dropping. The storm had been building the previous day and we had hove-to the previous evening under storm staysail and double-reefed main. The boat rode fairly well under this configuration, but there was a lot of movement and about 2:00 AM we took a 80-90° knockdown which carried away our deck-mounted life raft and did some other damage.

We remained below until sunlight and decided to deploy the sea anchor to stabilize the boat. We lowered the stays'l and deployed it as instructed. It filled fairly quickly and appeared to have a quieting effect on the boat's motion. Unfortunately the rode was chafing on the bow roller next to the anchor due to the movement of the boat (¸ 20° yaw + more when the boat was hit by a cross sea). Attempts to re-route the rode resulted in the rode and the sea anchor being lost.

Comments:

1) The primary anchor had not been stowed before going offshore, so the bow roller was not available for use, and the anchor caused chafing.

2) A practice run had not been done.

3) Insufficient chafe gear was available for use. We did notice that there was no jerkiness or surging with the anchor deployed. The tension on the rode was terrific.