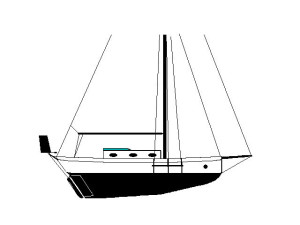 S/M-4
Cutter, "Taleisin"
29' 6" x 9 Tons, Full Keel Cutter
12-Ft. Dia. BUORD Parachute
Force 11-12 Conditions
File S/M-4, obtained from Lin & Larry Pardey - Vessel name Taleisin, hailing port Victoria, B.C., cutter designed by Lyle Hess, LOA 29' 6" x LWL 27' 9" x Beam 10' 9" x Draft 5' 3" x 9 Tons - Full keel - Sea anchor: 12-ft. diameter BUORD on 250' x 5/8" dia. nylon three strand rode with Pardeys' own bridle arrangement and 1/2" galvanized swivel - No trip line - Deployed in 100 fathoms during a tropical cyclone about 100 miles off the Queensland coast, with sustained winds of 60-70 knots blowing contrary to the Australian Current, creating confused seas of 25' and greater - Drift was estimated to be about 15 n.m. during 56 hours at sea anchor.
The Pardeys are now cruising on board their new and larger boat, Taleisin. The sea anchor for Taleisin was a larger - 12-ft. diameter - BUORD parachute. On 1 November 1988, en route to Mooloolaba from Roslynne Bay (Queensland), Taleisin safely rode out a cyclonic depression off the Australian coast, hove-to the para-anchor and storm trysail, in the manner described in the previous file (S/M-3). In their latest book, Storm Tactics, Lin and Larry describe the storm as "an unseasonable typhoon rammed up against a ridge of high pressure." The wind was blowing contrary to the Australian current, near the Great Barrier Reef. Conditions were atrocious. From Storm Tactics:
We were forced to lie-to parachute anchor for over 56 hours in winds exceeding 70 knots. (Weather forecasters spoke of winds of 85 in our area). Wind blew against current in only 100 fathoms of water, creating breaking seas, which forced 400-foot freighters to heave-to. We have never before seen waves dangerous enough to stop ships. We could see two of them nearby, maneuvering to keep their bows into the seas for over 12 hours. Yet even in seas like this we were able to bring Taleisin through with the only damage limited to chafed lines, chafed nerves, and bruised bodies. Other sailors within 50 miles of us fared far worse; two lost their lives while using other tactics.
Sometime in those fifty-six hours there was a formidable jerk as "an extra strong gust and an extra steep sea combined to head the boat up and tack." This caused Lin, who was sleeping down below, without the lee cloth in place, to be thrown out of her bunk against the stove, banging up her teeth and ribs, fortunately not too badly, however. All in all, Taleisin, tough little ship, came through with flying colors. But Larry has since opted for a smaller 9-ft. diameter BUORD, which he considers more yielding and better suited to the use of the bridle and riding sail arrangement.
Again, the main idea behind the Pardey strategy is to create a turbulent field upwind, a "slick" that smooths the seas and robs the waves of a great deal of their power. The bridle is adjusted so that the boat lies about 50° off the wind, and the use of a riding sail (storm trysail, triple-reefed main, or combinations of other sails, depending on the particular hull and rig) increases the pressure of the wind on the boat.
The result is that boat, rode and sea anchor are, as a train, drift downwind at about 5/8 of a knot, churning up the sea and setting up the turbulent field ahead of the boat. Note that this is a little different from the traditional method of heaving to - the boat occasionally fore- reaching.
Again: The Pardey strategy requires square drift. The yacht should not zig-zag or fore-reach out of her protective slick. She must drift squarely downwind, her keel "scraping" the sea. Refer to Storm Tactics for more insights into the Pardey's method of heaving-to.