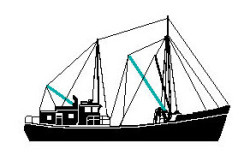 S/P-6
Commercial F/V
65' x 33 Tons
24-Ft. Dia. Sea Anchor
Force 9-10 Conditions
File S/P-6, obtained from Captain Paul Clampitt, Everett, WA - Vessel name Majestic, hailing port Seattle, converted 1923 wood schooner, LOA 65' x LWL 58' x Beam 16' x Draft 13' x 33 Tons - Sea anchor: 24-ft. Diameter Para-Tech on 600' x 3/4" nylon braid rode, with 3/4" bronze ball-bearing swivel - Full trip line - Deployed in a southeasterly gale in 300 fathoms of water about 40 miles south of Yakutat Bay, Alaska, with winds of 40-50 knots and seas of 20-30 ft. - Vessel's bow yawed 20°
Washington fisherman Paul Clampitt is the owner of the 65-ft. schooner Majestic. While longlining, he routinely uses a 24-ft. diameter Para-Tech sea anchor for station keeping, allowing the crew to get a good night's sleep offshore. On the occasion of this file the same 24-ft. sea anchor was used in a southeasterly gale in the Gulf of Alaska. The para-anchor did a good job of holding the bow of the boat into the seas - bearing in mind that this is a converted 1923 wood schooner with a full keel and stern draft of 13 feet. Transcript:
The parachute sea anchor requires some skill to learn how to properly deploy. We deploy it using a "flying set," by setting the chute off the stern and allowing it to open, then turning the helm upwind with the engine in neutral. The main advantage in using the anchor is in getting a good night's sleep without having to man the helm through a gale. We have yet to use the chute in true storm conditions, because in life-threatening situations I don't want to experiment, and prefer to have a man on constant watch - so we might as well maintain steerage way by jogging up into the seas. But it is a comfort to know the chute is available for deployment in case of loss of power.

In our case the chute doesn't really help that much in stopping the boat from drifting, however, because most of our drift occurs from strong tides in our areas of operation and the vessel and chute drift at the same rate in these situations.