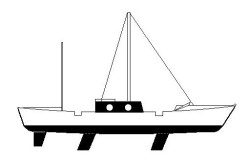 S/R-1
Aluminum Dory
28' x 2.5 Tons, Dagger Boards
12-Ft. Dia. Sea Anchor
Force 5 Conditions
File S/R-1, obtained from Ned Gillette and Mark Eichenberger - Vessel name Sea Tomato, aluminum rowing dory designed & built by Ned Gillette, LOA 28' x LWL 24' x Beam 7' x Draft 18" x 2.5 Tons - Dagger boards - Sea anchor: 12-ft. diameter Para-Tech on 300' x 1/2" nylon three strand rode with 1/2" stainless steel swivel - Full trip line - Deployed during passage of frontal troughs in deep water in the Drake Passage and off the coast of Antarctica with blizzard & winds of 25 knots - Drift was estimated to be 10 n.m. during 21 hours at sea anchor.
Victor Shane's company sponsored the team of Ned Gillette and Mark Eichenberger in their successful attempt to row a specially designed dory, Sea Tomato, from Cape Horn to the Antarctic, a distance of 1000 miles across the treacherous Drake Passage. They supplied the expedition with a small speed-limiting drogue, a Jordan series drogue (88 cones on 300 ft. of line), a 12-ft. diameter Para-Tech (main sea anchor) and a 9-ft. diameter BUORD (backup sea anchor).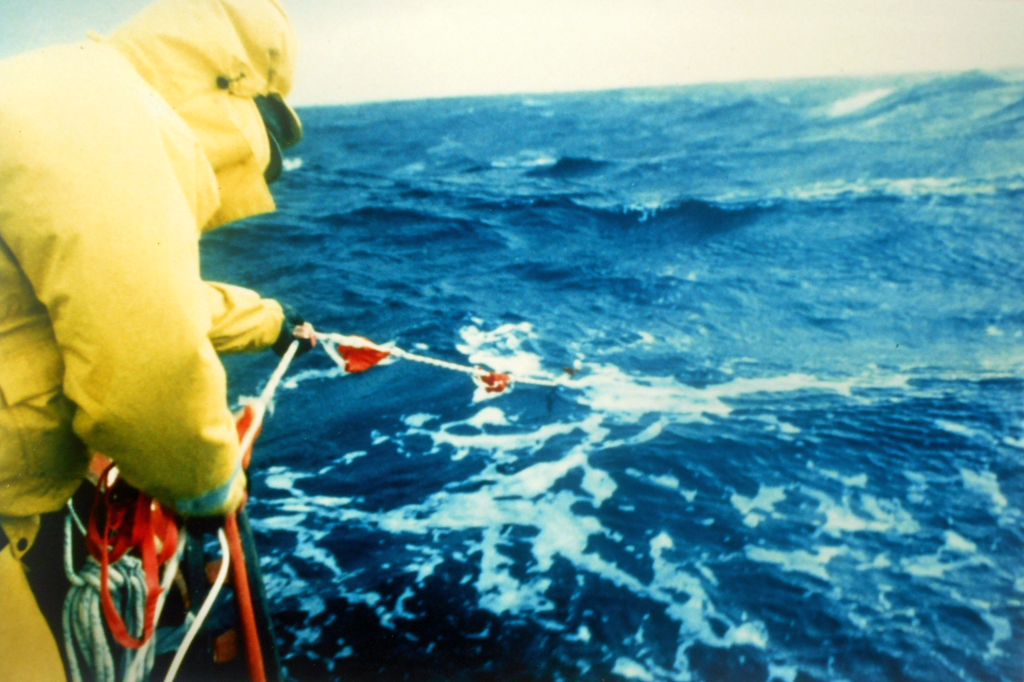 Shane saw in this expedition an opportunity to put several drag devices to the test. As it turned out, however, the crew never did get into a storm, other than the one that blasted them off in the beginning, which was driving them exactly where they wanted to go.
They did derive benefit from the 12-ft. diameter Para-Tech sea anchor in terms of drift control, however. When Mark Eichenberger afterwards visited Shane in Santa Barbara he said that no sooner had they sighted the coast of Antarctica than the weather turned sour and a Force-5 blizzard started pushing them back out to sea. They then deployed the sea anchor, which kept them more or less in place for 21 hours. He said icebergs, driven along by the wind, were drifting by the boat during that period.
Ned Gillette is both mountaineer and sailor, having conquered Everest and now Cape Horn. Author of the book Everest Grand Circle, he is also a free-lancer for the National Geographic Society. His article, Rowing Antarctica's Most Mad Seas, appeared in the January 1989 issue of National Geographic Magazine. Mark Eichenberger was a long time sailor and adventurer. The following is a transcript of the feedback obtained from Mark:
The sea anchors were key to our strategy on our expedition to row from Cape Horn to Antarctica, and the 12' diameter `FORCE 10' worked remarkably well. It was easy to deploy and retrieve, and it was effective in practically eliminating our wind drift. The only reason we did not use them more than we did is that we were blessed with very fortunate weather, the winds being mostly favorable and moderate.

During the third day out, 24 Feb. 1988, the winds from the gale which had blasted us off from the coast diminished gradually until in the evening they were W to WNW about Force 5. We had begun rowing at 0900 that morning and continued throughout the day until midnight whereupon it became too dark to row effectively. So we put out the sea anchor and lay to it until 0940 the following morning, about 10 hours during which our average drift was 0.9 knots. We most likely would have had a current of .5 knot or more in this part of the Drake Passage. On the seventh day, around midnight, a frontal system passed over us and the wind shifted from WNW eventually to settle on SW with overcast and rain. The conditions were not rough; however, the wind was contrary to our purpose and, in order to hold the southing and westing that we had gained, we once again deployed the sea anchor. From 0230 until mid-afternoon we lay to the sea anchor, nearly 13 hours. Our average drift had been 0.6 knots. Interestingly, in the morning we had a pair of Southern Bottlenose Whales, about 30 feet long, come by to investigate this enormous orange jelly fish - the sea anchor. They swam between us and the sea anchor, but fortunately decided it was inedible and left.

The third and final use of the sea anchor came on our approach to the Antarctic coast on the 13th day out. A light westerly wind gave way to a fresh breeze (Force 5) out of the southeast, so at 1930 hrs. we deployed the sea anchor to hold what ground we had gained, and lay to it from late on the 4th of March, throughout the night and following day until 1630, a total of 21 hours. We kept an "anchor watch" throughout the period as there were icebergs scattered around and occasionally growlers and bergy bits would drift down past us.
EPILOGUE: In December 1991 Mark Eichenberger was working on the ice breaker Erebus in the Strait of Magellan when a devastating storm blew into Punta Arenas. Two great waves washed over Erebus' decks in rapid succession. Mark was swept overboard and lost at sea. He was a good friend of Shane's and an accomplished seaman. We are all diminished by the passing of a comrade. We bid defiance to the sea, in honor of his memory.