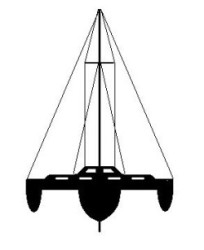 S/T-8
Trimaran, Cross
42' x 23' x 7 Tons
18-Ft. Dia. Sea Anchor
Force 9-10 Conditions
File S/T-8, obtained from Daniel A. York, Costa Mesa, CA. - Vessel name Gold Eagle, hailing port San Francisco, trimaran designed by Norman Cross, LOA 42' x Beam 23' x Draft 4' x 7 Tons - Sea anchor: 18-ft. Diameter Para-Tech on 400' x 5/8" nylon braid tether and bridle arms of 60' each, with 5/8" stainless steel swivel - No trip line - Deployed in gale-force winds in shallow water (25 fathoms) about 15 miles west of the Nicoya Peninsula (Costa Rica) with winds of 45-60 knots and seas of 10 ft. - Vessel's bow yawed 10° - Bearings taken from three shore lights indicated no noticeable drift during five hours at sea anchor.
This file is about a 42-ft. trimaran that used an 18-ft. diameter Para-Tech sea anchor to stand off a lee shore against the sudden onslaught of 40-60 knot winds. Gold Eagle was sailing to Puntarenas, Costa Rica, from Corinto, Nicaragua. In the evening of 22 May 1990 she was about fifteen miles offshore, about to clear Cape Blanco on the Nicoya Peninsula, when the wind came up out of nowhere. Incidentally, this is a common occurrence on the Pacific side of the Central American coast. Whether caused by a massive high pressure cell over Texas funneling air through gaps in mountains, or by the seasonal migrations of the Inter Tropical Convergence Zone, it is something one should always be prepared for in Central American waters. Transcript:
Wind (45 knots) came up very fast at approximately 2000 hrs. I rushed forward to drop the club-footed jib (already reefed). The aft reef grommet tore out along with 3' of sail before I could drop it. Under full power (40 hp. Mercedes Diesel with 18" diameter 3-bladed prop) boat was being blown backward so fast that the rudder was trying to jam hard over. Seas starting to come over port beam after engine secured as it was overheating. Dropped 18-ft. diam. para-anchor. Bridle shackle almost hung up on port ama cleat, but I cast it free just before strain on bridle. Boat immediately swung into wind and seas. Seas very short and steep as boat climbed and fell off crests.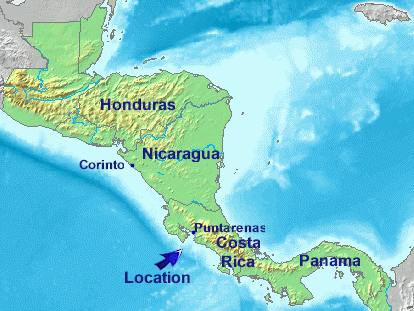 I was concerned we'd be blown to shore, but over the 5 hour period I took bearings from three shore lights (360°, 125°, 100°) with no noticeable drift. Winds maintained 50-60 knots for approx. 1 or 1.5 hours, then lowered to approx. 40-45. After five hours winds dropped to only 10 knots. Another trimaran, returning to Long Beach after participating in a trans-Atlantic race, had trouble with jammed sail track slides and was dismasted in the same blow. My sea parachute is one of the few items I purchased that performed as advertised and no defects or surprises. I appreciated the quality and the performance more than I can express. Wouldn't leave port without it ever.