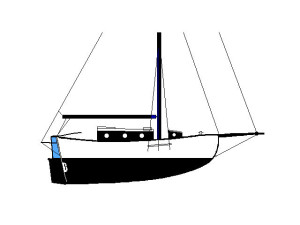 S/M-13
Bristol Channel Cutter
26' x 7 Tons, Full Keel
9-Ft. Dia. BUORD Sea Anchor
Force 8 Conditions
File S/M-13, obtained from Gary Kaye, Sidney B.C. - Vessel name Mintaka II, hailing port Vancouver B.C., designed by Lyle Hess, LOA 37' (with long bowsprit) x LWL 26' x Beam 10' x Draft 5' x 7 Tons - Full keel - Sea anchor: 9-ft. diameter BUORD on 300' x 5/8" nylon three strand rode with 1/2" galvanized swivel - No trip line - Deployed in a whole gale in deep water approx. 140 miles west of Coos Bay (Oregon coast) with wind sustained at 40 knots and seas of 20 ft. - Use of the "Pardey Bridle" arrangement held the bow 50° off the wind. Drift was estimated to be about 50 n.m. during 52 hours at sea anchor.
In August 1987 Mintaka, a Lyle Hess designed Bristol Channel Cutter, was headed for San Francisco from Victoria B.C., when she ran into a whole gale at about latitude 44° N, longitude 127° W, (some 140 nautical miles west of the Oregon Coast). Gary and Sandi Kaye deployed a 9-ft. diameter BUORD parachute, using the Pardey bridling method (see files S/M-3, 4). All told, this traditionally designed, heavily built cruising yacht was hove-to for 52 hours, the wind sustained at 40 knots and seas of 20 feet.
Since there were no written notes, opinions or observations accompanying the DDDB form that Victor Shane received from these intrepid sailors, it was likely a matter of routine seamanship. Victoria, has a rich seafaring history. It is the hailing port of Taleisin, as well as a number of other boats in this database. It is inspiring to find boats like Mintaka following in the Voss/Pardey tradition of safe voyaging under mast and canvas. When one of these boats get into heavy weather the crew members are not wanting for a tactic. They heave-to, ride out the storm, and quietly resume their cruising.