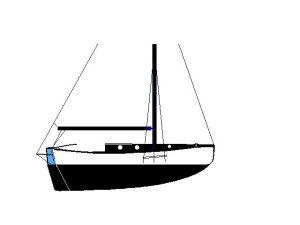 S/M-14
Carol Sloop
24' 6" x 2.7 Tons, Full Keel
9-Ft. Dia. BUORD Sea Anchor
Force 6-7 Conditions
File S/M-14, obtained from Walter Keintzel, Monterey, CA. - Vessel name Deanna, hailing port Monterey, "Carol" double-ender designed by Chuck Paine, LOA 24' 6" x LWL 20' x Beam 9' x Draft 3' 6" x 2.7 Tons - Full keel - Sea anchor: 9-ft. diameter BUORD on 300' x 1/2" nylon three strand with 1/2" galvanized swivel - Deployed in deep water off the central coast of California in low system with winds of 30 knots and seas of 10 feet - Vessel's bow yawed up to 80° - Drift was about 7 miles during 11 hours at sea anchor.
Victor Shane had the opportunity to take a close look at Deanna when she was moored in Santa Barbara harbor. This little pocket cruiser has a flush deck, with very low freeboard and a large full keel beneath. When Deanna is lying a-hull she is more or less anchored to the surface of the ocean by virtue of her big keel alone. Her rate of drift is further reduced because of her low freeboard. In general a yacht has to drift, to tug at a sea anchor, to cause it to fully inflate and function properly. In 60-knots of wind the same BUORD would have done a better job on this boat. A much larger parachute, say a 24-ft. diameter military chest reserve, would likely have pulled Deanna's bow up much higher into the wind as well, even in the given 30 knots. Here is a transcript of the feedback obtained from Walter Keintzel:
Location was 55 miles true west of Pt. Sal, measured by the Loran. I don't recall the barometer reading, but it was "normal." Don't recall the wave length & period, because when I deployed the sea anchor at 20:00 hrs. I was very, very exhausted & numb.

We lay at 80° to the nylon rode - almost parallel to the seas. I think this is because my flush-decked boat got lost in the troughs - not enough windage! With a riding sail on the back stay, I think it would work. As it was, it wasn't too bad.

Mainly the anchor kept me in place for a stormy night, and kept my physical condition from deteriorating to the point where I needed to call the Coast Guard. Next day I ran into Morro Bay for rest & repairs.

I'm very grateful for the parachute anchor. It was easy to deploy, but next time I'll certainly use a 300' trip line. Retrieval was like pulling a VW for fifty minutes!