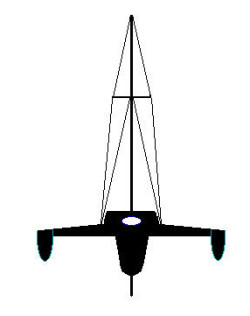 S/T-10
Trimaran, Brown Searunner
31' x 18' x 2.2 Tons
12-Ft. Dia. Sea Anchor
Force 7-8 Conditions
File S/T-10, obtained from Donald Longfellow, Garden Grove, CA. - Vessel name Take Five, hailing port Ventura, Searunner trimaran designed by Jim Brown, LOA 31' x Beam 18' 6" x Draft 5' (2' 6" board up) x 2.2 Tons - Sea anchor: 12-ft. Diameter Para-Tech on 300' x 7/16" nylon braid tether and bridle arms of 45' each, and 1/2" galvanized swivel - Full trip line - Deployed in Papagayo conditions in shallow water (25 fathoms) about 20 miles off the coast of Nicaragua with winds of 30-40 knots and choppy seas of 6-8 ft. - Vessel's bow yawed 10° - Drift was estimated to be 3 n.m. during 6 hours at sea anchor.
Papagayo winds can come up unexpectedly. They are caused by an intensification of the trade winds in the southwestern Caribbean, blowing offshore through narrow gaps in the mountains of Central America, setting up a short, nasty chop that may run at a 30-50° angle to the predominant wave train. The real difficulty for small craft is not the size, but the steep and confused nature of the seas. Papagayos can last for a few hours, subside slowly, then come back up again. They are most prevalent from December to March. The name Papagayo comes from the Gulf of Papagayo - northern Costa Rica - where they probably blow the hardest. Their southern limit is fairly distinct, being about 10 miles south of Cabo Velas in Costa Rica. The Papagayo is harder to predict than its cousins to the north, the intimidating Tehuantepeckers of the Gulf of Tehuantepec (Mexican isthmus) and the Santa Anas of Southern California. The owner of Take Five has equipped her with a number of drag devices, including a Galerider. On 29 January 1991 he deployed a 12-ft. diameter sea anchor to cope with Papagayos. Transcript:
Because the wind was coming out of the breaks in the coastal mountains it was blowing 30 degrees off the direction of the primary wave track (120° magnetic). Adjusting the length of one bridle arm didn't rotate the boat sufficiently so I re-led the starboard bridle arm to a snatch block near the stern of the starboard float. This allowed the boat to face into the large waves coming from farther down the coast, which I considered more important than facing directly into the wind. The centerboard was up but side-to-side yaw wasn't a problem. Despite the atrocious looking sea state I eventually noticed that the boat decks were dry and, except for an occasional errant wave slapping the hull, the boat was quite comfortable. Drift was more than what I've experienced on other occasions that I've used the para-anchor. Perhaps there was a current present or perhaps it could be attributed to turning the hull 30 degrees to the wind.