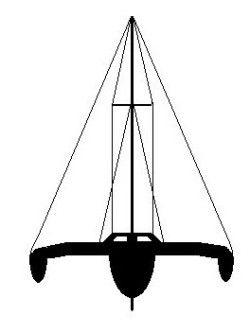 S/T-11
Trimaran, Simpson
43' x 27' x 5.5 Tons
18-Ft. Dia. Sea Anchor
Force 9 Conditions
File S/T-11, obtained from Frans Aeyelts, Halifax NS. - Vessel name Amakama, hailing port Halifax, trimaran designed by Roger Simpson, LOA 43' x Beam 27' x Draft 3' 6" x 5.5 Tons - Sea anchor: 18-ft. Diameter Para-Tech on 430' x 3/4" nylon three strand tether and bridle arms 70' each, with 5/8" galvanized swivel - Full trip line - Deployed in a whole gale in deep water about 260 miles north of Bermuda with winds of 40-50 knots and seas of 20 ft. - Vessel's bow yawed 10° - Drift was estimated to be 5-10 n.m. during 27 hours at sea anchor.
Charter skipper Frans Aeyelts has used the parachute sea anchor half a dozen times in Halifax to Bermuda runs. Like Voss and the Pardeys, he's not one to give any storm the benefit of any doubt. Transcripts:
Having used the chute several times convinces me that it is essential to the safety of the boat and crew. (Nobody is going to tell me otherwise, especially those who have never used one and have firm opinion about it!) October 22, 1987: This was the maiden voyage of Amakama to Bermuda, with final destination Barbados. Early during the morning the wind came up from the NW and kept increasing and veering. By noon we were clipping along nicely with a fresh breeze from the north. Wind force kept building and veering to NE. Speeds up to 16 kts. We decided that if the weather would not improve by 1600 hrs. we would put out the chute. Since this was the first try of the device in the open ocean, we wanted to deploy it in daylight. By 1700 hrs. the parachute had been deployed.

Seas are continuing to build, so is the wind (Force 8). Foam streaking down the steep waves - breaking crests. Twice a rogue broke over the boat. Too rough to cook. Everybody in their bunks. From time to time we look out to see how the weather is. Very noisy down below - 36 hours is a long time to be cooped up with five people on a boat. Cross seas from the north aggravating the confused sea state. Chute behaved very well. Trip line [full] made it easy to retrieve. Very good device. To heave-to under such conditions would be dangerous - you are taking the elements 50-60° on the bows and may sustain damage or capsize. Running off...? Also dangerous - waves were too steep. Retrieved parachute 0815 hrs. next day. Motorsailed in rough conditions (close-hauled SE wind) to St. Georges Harbor, Bermuda.

 

May 28, 1988: Fast moving front. Sea and wind came around from SSE to NE very quickly. Situation was such that we could no longer sail and had to put out the chute. By midnight the sea state had calmed down considerably, but was still "lumpy." Chute performed admirably well again, giving us relief from a long wet watch in cockpit. I figured it was better to sit at the para-anchor than risk sailing on, not knowing what was going to develop later. Tim and myself were able to haul back the chute without difficulty.

 

October 8, 1988: Left Halifax harbor at noon. Crew of three, including myself. NE wind, already blowing strong. Forecast called for 40 kts. Sailed for 6 hours - sea and wind force kept building as we left land behind us. Going very fast. After 3 hours of this we dropped the jib, next the main, and finally the inner stays'l. Because we were over La Have basin (approx 40 miles south of Halifax) well on the continental shelf, the seas built up to short, steep waves in a very short time. With two inexperienced (multihull) sailors on board I did not want to sail the night in huge seas. Parachute deployed. Safety first. This was a short-lived gale. A schooner that had left only 2 hours before us blew out her sails in the same gale and had to limp back to port. Better safe than sorry!